gypsum cornice machine has excellent prospects
Views: 3 Author: Site Editor Publish Time: 2019-07-22 Origin: Site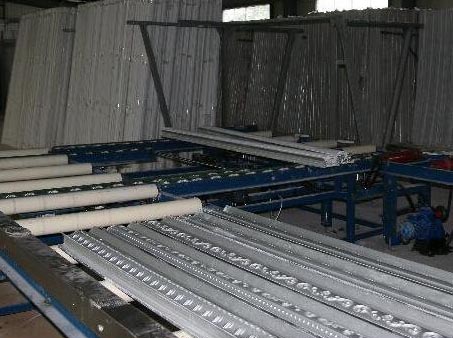 gypsum cornice machine has excellent prospects
The gypsum line machine has excellent prospects. Let me introduce to you: In order to develop intelligently, artificial intelligence is a new science and technology that enables computers to simulate certain thinking processes and intelligent behaviors of human beings and understand the essence of intelligence. And create a new type of intelligent machine that can react in a way similar to human intelligence.
Gypsum line machine
The introduction of artificial intelligence technology into automated assembly line technology enables the automated assembly line system to have knowledge, experience, reasoning and decision making capabilities. In the direction of integration, product design, production preparation, processing and manufacturing, production management and after-sales service are inseparable in the production process of enterprises. Integration is to provide comprehensive solutions for all aspects of production.
The development of the gypsum line machine to the integration can bring obvious effects to the enterprise. The same causes often occur in hydraulic systems, but the various failures, different system configurations, and the different mechanical structures that match them are numerous.we are provide gypsum cornice machine brands,you can know it.
For example, the same system draws in air, which can cause different failures. The gypsum production line production equipment adopts electromechanical integration technology, which makes the cycle of equipment operation consistent, thus forming a product with high stability and low waste rate.
Gypsum line machines and equipment can be used for a variety of purposes on a single machine. By changing the mold, it is possible to produce high quality gypsum production lines of different specifications and patterns. The daily output can reach 3000-6000 gypsum production lines. Four people can complete the surgery. We are more professional in plant construction, equipment selection, targeted design, installation and commissioning and worker training. Our gypsum production line is your choice. Gypsum line equipment and decorative lines are usually not manufactured on site, but are machined by professional wood line factories. They are available in a variety of colors to suit different decorative and individual needs. The decorative line can be divided into a female corner line, a male corner line, a Huban line and a decorative flat line according to its shape. According to raw materials, it can be divided into wood products, gypsum products and plastic products.
In terms of the current market share, wooden decorative lines account for a large share, and about 80 od decorative lines are often used as white wood, mahogany, pine, willow, walnut, and so on. Then I have to pay attention to the smoothness of the appearance.we are provide gypsum cornice machine brands,you can know it.
Gypsum line equipment, embossed products look no damage, clean and tidy, fine texture, hand lubrication, the better the effect after painting. The third point is the thickness of the goods. Gypsum is a hermetic gelling material. The product must be of the appropriate thickness to ensure the integrity and integrity of the service life and time of use.
Honesty is the foundation of our business
For customers - credibility, keeping promises, and always maintaining a good corporate image
Service is our eternal theme
We provide our customers with not only advanced technology and quality products, but also a focus on credibility and service-oriented spirit.
Innovation is the source of our development
Be good at learning, learn from others, collect eclecticism, innovate and develop, keep pace with the times, introduce, research and develop the latest technology, so that the company's products have more vitality.
Pursuing excellence is our unremitting goal
Our responsibility to our customers is to provide superior products and services. Maintaining and improving our company's product and service leadership is our primary responsibility.
"Customer first, reputation-based", our company is willing to develop with new and old customers at home and abroad with excellent products and thoughtful service!