How palletizing robots can help modern industry
Views: 7 Author: Site Editor Publish Time: 2019-08-27 Origin: Site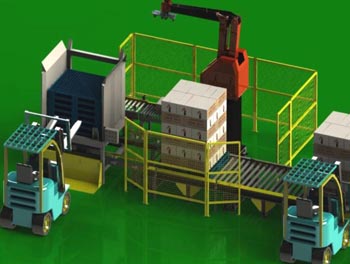 How palletizing robots can help modern industry
The rendering of the palletizing robot evolved from the high-tech skills of the robot. It can imitate some of the action functions of the human hand and the arm, and is used to grasp, transfer objects or operate the active equipment according to a fixed procedure.
It can replace the human's deep work to complete the mechanization and automation of production, and can operate in a messy environment and harmful environment to maintain personal safety. Therefore, palletizing robots are widely used in many fields. Therefore, the palletizing robot must replace the manpower.
In order to get used to the production of large-scale production, to deal with monotonous, repeated physical work and improve the quality of production, the palletizing robot has become one of the important indicators to measure the level of technology in a country.
The use of palletizing robots is more and more extensive, and the demand is also growing. The research and development of their skills is deepening, which will improve the social productivity and product quality, and will also invent huge wealth for the society.
The full-active code smashing skills have brought enormous wealth to the society from the generation to the development of energy conservation and environmental protection. In China, a country that was originally considered to have infinitely cheap labor, with a population of 1.3 billion, the special economic achievements of the past 20 years have now changed. The era of cheap labor in China is over, and many labor-intensive industries are now It has been reluctant to work in an environment with harsh environment, strong workmanship and severe pollution. Even if the salary is higher, people will first consider health issues.
In recent years, China is moving from labor-intensive to modern manufacturing operations. Rejuvenation operations and industrialization are important tasks for China's economy. With the continuous improvement of the company's productivity, improvement of product quality, reduction of labor intensity, and improvement of labor conditions, it has become a priority for enterprises nowadays. As a yardary robot that can satisfy all the above conditions, it has become a more ambitious choice for enterprises.we are provide cheap palletizer for sale,We can guarantee quality.
The palletizing robot not only greatly enhances the competitiveness of the enterprise, but also brings obvious benefits to the users, and together also invents huge wealth for the society.
Our business policy is: to survive by quality, to develop by products, to cooperate with credit and to win customers with service.
The company abides by the contractual commitment to product quality and various services, and is willing to cooperate with new and old customers to create a better future.
Company spirit: Innovation is the eternal theme, and transcendence is the unremitting pursuit.
Company purpose: credit guarantee, integrity-based.
We will serve the new and old customers with reasonable price, good reputation, strong strength, high quality products and most considerate service!we are provide cheap palletizer for sale,We can guarantee quality.