Gypsum line equipment manufacturers talk about installing plaster line precautions
Views: 6 Author: Site Editor Publish Time: 2019-07-01 Origin: Site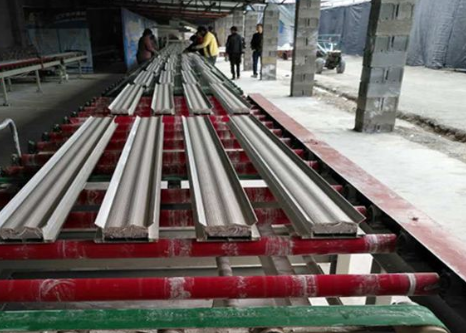 Nowadays, home decoration will be decorated with plaster, which gives a visually beautiful and simple feeling, which can make your home unique and therefore more and more recognized and accepted by people.

If the current house has a good decoration effect, it is inseparable from the perfect combination of plaster. Gypsum line equipment manufacturers for a brief introduction, the installation personnel should pay attention to the following points when installing the plaster line.
First, wear overalls Wear uniforms and work shoes during construction, wear a helmet to prevent bruises from hard objects.
Second, there is no fire nearby. No smoking during construction, there can be no fire at the work site.
Third, the platform should be firm. When installing the ceiling, it is necessary to build an operation platform, and build it to ensure its solidity.
Fourth, the operation should be standardized For the operation of tools and electrical equipment should be strictly regulated, can not be thrown when the tool is transferred, the tool is placed in the tool bag after use, can not be littered to prevent accidental injury and loss of tools.we are provide gypsum cornice machine brands,you can know it.
As always, we insist on customer first, quality assurance, and honesty. The letter-based business philosophy is the right choice for enterprise development.
In the future development path, our company will continue to adhere to the quality of technology as the core competitiveness, based on excellent products and sincere service, has fully satisfied the needs of customers as their responsibility, and make the enterprise bigger and stronger.