Gypsum line equipment(gypsum cornice machine) has been intelligent
Views: 5 Author: Site Editor Publish Time: 2019-07-17 Origin: Site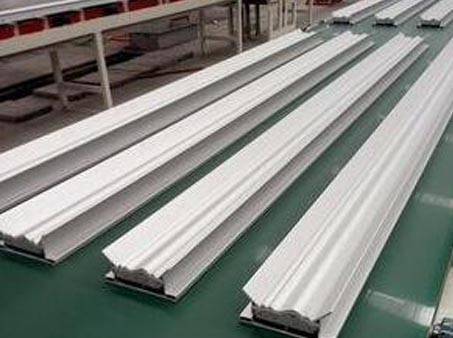 Gypsum line equipment(gypsum cornice machine) has been intelligent
The internal space of the plaster line equipment is mechanically evenly distributed. At the same time of pumping, the second agitation of the gypsum slurry makes the hydration reaction of the gypsum more uniform and reasonable, thereby improving the overall strength of the gypsum block, effectively improving the compressive strength and flexural strength of the gypsum block, and greatly improving the gypsum. The internal strength of the block.
Gypsum line equipment can add industrial waste to reduce production costs. The design of the intelligent control system. Due to the uncertainty of gypsum hydration reaction, manual management, environmental uncertainty, etc., it is difficult to control production with general control methods, which also affects production efficiency and product quality, resulting in a large waste of manpower, material resources and financial resources. .
The gypsum line equipment has developed an intelligent control system based on the physical properties of the gypsum conversion process from liquid to solid by collecting experimental data from the mechanical production process of the gypsum production line, conducting scientific calculations and repeated practice.
The gypsum line machinery and equipment has very good functions and low price. It has the functions of fireproof, moisture proof, heat preservation, sound insulation and heat insulation, which can play a luxurious decorative role.we are provide gypsum cornice machine brands,you can know it.
We are willing to strengthen exchanges and cooperation with people from all walks of life at home and abroad, and sincerely provide quality products and services to customers at home and abroad, and become your sincere friends and partners.
Most of the building gypsum is architectural gypsum, followed by model gypsum, in addition to high-strength gypsum, anhydrite gypsum cement and floor gypsum. The main raw material for gypsum production is natural dihydrate gypsum, also known as soft gypsum or gypsum, that is, calcium sulfate containing two kinds of crystal water.
The company will adhere to the credo of "excellent quality begins with subtlety", comprehensively enhance the management level of the company, and aim at customer satisfaction, and provide more convenient and diversified quality products and services for the majority of Chinese and foreign customers.
The quality of our products is the premise of our development. The credibility of our cooperation makes us take care of your production. Your trust is the cornerstone of our long-term cooperation.