Advantages of improved gypsum cornice machine
Views: 11 Author: Site Editor Publish Time: 2019-09-23 Origin: Site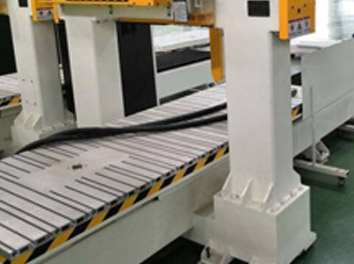 Advantages of improved gypsum cornice machine
The gypsum cornice machine specializing in the production of gypsum lines has been improved to cut the gypsum lines faster, and the cut plates are more precise in size and more beautiful in the plates. The most important point is that it greatly saves the consumption of cutting machine parts and makes the equipment run more efficiently, quickly and stably.
1.The gypsum line machine adopts multi-saw cutting, which can cut the large blank into dozens of pieces at a time, and the cutting speed is 10 to 30 times that of the general cutting machine.
2.The cutting specifications are variable. This machine can cut the blank into different specifications according to the requirements of the product, and the cutting thickness can be from 30mm to 500mm.
3.The gypsum line machine has precise cutting dimensions and small errors.
4.The large blank can be cut. The maximum width of the blank can be more than 1000mm, the length can reach more than 3000mm, the height can reach 600mm, and the application range is wide.
5.The gypsum line machine has small installed capacity, saves electricity and has low cutting energy consumption.we are gypsum cutting machine manufacturer and provide gypsum cornice machine for sale,we can guarantee quality.
6.The gypsum line machine has a simple and compact structure, convenient maintenance, small floor space and less cutting.
The company will adhere to the credo of "excellent quality begins with subtlety", comprehensively enhance the management level of the company, and aim at customer satisfaction, and provide more convenient and diversified quality products and services for the majority of Chinese and foreign customers.
The quality of our products is the premise of our development. The credibility of our cooperation makes us take care of your production. Your trust is the cornerstone of our long-term cooperation.